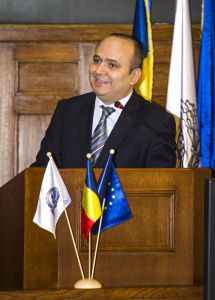 Vice-Rector for International Relations
Professor Constantin Marius Profiroiu teaches public policy and good governance at the Bucharest University of Economic Studies, where he is the Vice-Rector with International Relations.
He was the Dean of Faculty of Administration and Public Management from 2010 to 2016. He is also Fulbright Senior Alumnus 2010-2011 at Martin School of Public Policy and Administration, University of Kentucky.
Between 2014 and 2016, he was the President of the Network of Institutes and Schools of Public Administration in Central and Eastern Europe (NISPAcee). Also, he is member of the European Statistical Governance Advisory Board (ESGAB) since 2015.
He was Director-general of the European Integration Department in Romania from 2001 to 2002 and also held the post of State Secretary within the Ministry of Public Administration and Interior between 2002 and 2004. He was in charge of the coordination of the public administration reform and responsible with the PHARE program in the field of civil service reform and decentralization process in Romania.
Marius Profiroiu is author of numerous publications in the field of civil service, decentralization, governance, strategic management.
Department for International Relations
Services
The Department for International Relations, under the coordination of the Vice-Rector for International Relations, is responsible for policy planning and implementation in the area of internationalization. Informing and increasing awareness, overseeing, planning and promoting projects for internationalization and international cooperation are the key priorities.
The Department works actively to establish and sustain the international reputation of the Bucharest University of Economic Studies, exchange programs and collaborations with other universities.
Our staff works as a liaison between students, faculty and staff members both of the Bucharest University of Economic Studies and from those from abroad.
The Department for International Relations is responsible for:
International partnerships: the department facilitates, maintains and develops the relationship with partner universities and organisations worldwide.
Admission of international students: admission, registration, orientation and integration of international students in collaboration with faculties and other administrative departments.
Exchange programs at Bachelor, Master and Doctoral levels: incoming and outgoing student mobility for studies, internships, study visits, short-term programs.
Double degree programs: double degree agreements with certain partner universities allow Bachelor or Master-level students to spend at least one year at ASE and one year at one of the partner universities, earning a degree from both institutions.
Mobility of academic and administrative staff: the department manages the outgoing and incoming mobility of teachers, researchers and administrative staff in collaboration with faculties, departments and research centres.
Recognition and equivalence of international studies: recognition of the learning outcomes for students who have studied abroad.
International PR and networking: support and follow-up on international contacts, organisation of international events, promotion of the international programs of the Bucharest University of Economic Studies.
Organisation
The Department for International Relations is structured within two offices.
It is the responsibility of the Office for International Cooperation and International Students to handle bilateral or multi-lateral cooperation arrangements, the admission and registration of international students pursuing a degree, the mobility of personnel and the certification of study papers.
The Erasmus+ Office handles inter-institutional Erasmus+ agreements and programs as well as Erasmus and assimilated student and staff mobility.
Reports/Stats
The Office of International Cooperation and Foreign Students provides statistics about the international students and scholar population at the Bucharest University of Economics. This information is publicly available.