Notifications panel for Erasmus+ for studies
Selecția II: iunie-iulie 2023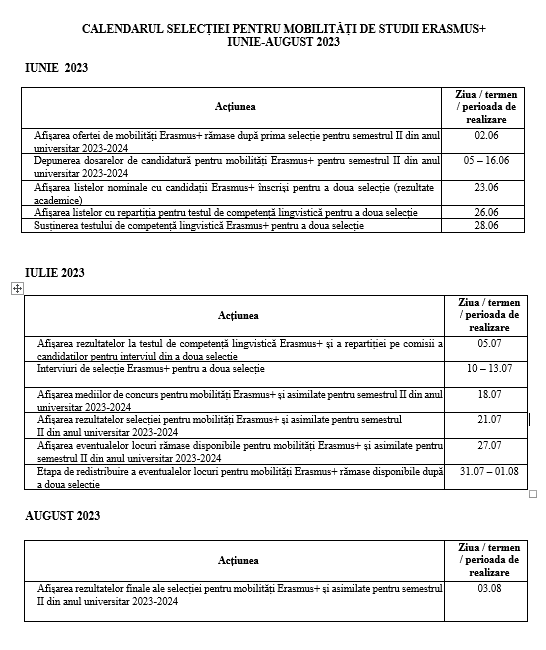 Oferta de destinații Erasmus+ pentru studiu – 2 iunie 2023 (pending)
Why Erasmus+ for Studies?
International student life

– Learn what it means to be a student in another European country. You will find that there are similar things to your ASE experience, but also many differences that will surprise you. The experience will give you a new perspective on your studies and will offer you the opportunity to experience other styles of teaching and learning.

More independence

– The experience of studying and living in another country will be a challenge: you have to deal with new and unfamiliar situations, to manage your time and budget, to learn to adapt to a new culture. Moreover, you have more freedom in choosing the courses you want to study.

Powerful knowledge

– Student life in a foreign country will give you an entirely different perspective than the one you acquire as a tourist. You will discover and understand what daily life means in the host country and you will learn to communicate with people from different cultures.

Personal and professional achievements

– Such experiences are not always easy, but once you overcome the initial difficulties, you will discover that in addition to studies, you can travel, have fun, meet many interesting people and to grow as a person. Besides, it will make a great addition to your future professional profile.
Frequently Asked Questions
When does the study mobility take place?
The selection for Erasmus+ studies is done one academic year before the mobility actually takes place. The departure will take place in the next academic year, as planned with your coordinators.
How many selections are there?
There are two selections, but the destinations greatly differ. The first selection starts around January and it contains the complete list with the next year's destinations (duration: 1st/2nd semester or the whole academic year). The second selection starts around May and it is only for what destinations have remained after the first selection was completed (being also limited to the duration of the 2nd semester).
I am a student in my final year, can I apply for Erasmus+?
Yes, you can be an Erasmus student during the 1st year of your next level of study (1st year of Master or PhD), only as long as you will enroll and pass the admission at one of our university's Master or PhD programs. If you change your mind before departing to Erasmus or you have been admitted elsewhere, you can still quit, it is not mandatory to go in the mobility if you were selected. Also, if you don't plan to apply for a Master or PhD, you can apply for an Erasmus+ placement (internship/job), but the application can be done only while you are still a student, even if you depart after you finish your studies. 
How long does the study mobility last?
The minimum duration is 2 months for internships or 3 months to study mobility. You can benefit from 12 months of mobility in a university course or within one academic year or cumulate several periods of mobility.
Will I have arrears / other examinations to take on return?
No – If you pass all mobility exams, according to the study contract which you conclude at the beginning of mobility, you will be fully recognized as part of the ASE studies. However, if cumulated mobility credit points are not enough (30 ECTS – semester 60 ECTS / year) you can choose with your coordinator which exams to take in the review session from the courses that were taught at ASE.
Can I join the final graduation exam at the host university?
No – Unless there are double degree agreement between universities, the graduation exams take place exclusively at the home university (ASE). Studies abroad are recognized as part of the qualification obtained in Romania, but not completed at the host university diploma.
Can I choose any university of destination?
Yes – Exclusively from the list of partner universities of ASE. Erasmus mobility is based on bilateral cooperation agreements between institutions holding Chart Erasmus European Union and associated countries.
How can I prepare for my mobility in regards to language skills?
In the Erasmus+ Programme there is a module for language support during the mobility. You will receive information about it after the selection.
I do not fit any criteria for Erasmus+ studies selection, are there any other options for me?
You can always apply for an internship and benefit from an Erasmus+ grant. For this, you can check our Erasmus+ for Placements section of the menu.